Professional Concrete Crack & Joint Repair Services
Not just a slab of cement, your driveway is a place where your kids and pets will play, your guests will park, or where your beloved boat might rest when it's not on the water. A place where many a loved one (or thing) may tread, you expect your concrete driveways to be solid, smooth, and safe.
While concrete is one of the most durable construction materials, it will deteriorate over time without proper concrete maintenance and repair. Factors such as extreme temperatures, freezing and thawing, heavy loads, and tree roots can all cause cracks in your driveway.
These cracks in your driveway's cement are not only unsightly, but they can be hazardous too. When cement starts to crack, it can quickly become unstable and dangerous. So, it's crucial to repair and seal these as soon as possible before they become a bigger problem.
Generally, a crack appears in concrete when part of a concrete slab breaks and sinks into the soil beneath. Moisture then seeps through these cracks and into the underlying ground. This excess moisture can cause the soil to soften and even wash away completely. The lack of support from the soil causes the concrete slab to crack further and sink into the gap left by the ground that's washed away. Depending on the severity, you might be left with a gaping hole where your slab of concrete used to be!
To prevent moisture from seeping through the cracks and into the soil beneath, the cracks and original joints must be professionally sealed. While it may be tempting to quickly seal these up with caulk found at your local hardware store, this is likely to be somewhat of a quick fix. Over-the-counter caulks coupled with limited knowledge (sorry, DIYers) often lead to drying, bubbling, and cracking again over time. This means you'll be buying more caulks and sealing them up again before you know it.
Repair And Maintenance Methods Include:
Our Repair Process Includes
The area is prepped
Our repair process starts with pressure washing your driveway's surface to lift and remove any debris and surface stains before applying a sealant.
Long-wearing caulk is applied
The cracks in the concrete are caulked with a professional caulk to prevent water from penetrating within and beneath the concrete.
Joints are sealed
The original concrete slabs joints are also sealed to maintain integrity and added durability.
Apply UV-resistant staining product
Finally, applying a UV-resistant sealant on top of the compromised area and the rest of the driveway will help to protect the concrete and maintain it for many years.
You Can Depend On The Driveway Company
With over 30 years of experience, The Driveway Company is your one-stop solution for all your concrete repair and maintenance needs. On top of sealing cracks and joints on your driveways, we also repair sidewalks, patios, swimming pools, and foundations.
Our highly-trained teams use commercial-grade products as a result of a strategic partnership with Sherwin Williams. Our product is hand-tooled into the cracks and joints, which allows for a clean and aesthetically pleasing result. We also provide grinding where necessary, back-rod, removal of old sealants, and expansion joint material.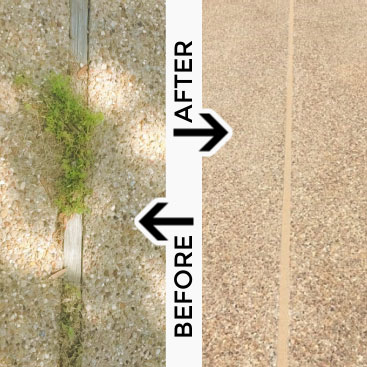 Instead of fixing up your driveway yourself, leave your concrete issues to the professionals. Rest assured, we'll work quickly and efficiently to make your driveway a safe and enjoyable space for your family and visitors. Your best bet, our friendly and professional team is just a phone call away. Contact us today to find out more!
Testimonials
"Thank you for a job well done! The crew that was here did a great job! Please be sure to tell them!"
Shar Boulward
"The Driveway Co did an outstanding job on our new garage floor. The workers, Steve and Mike, were very professional and friendly. They took the time to explain the procedure and answered our questions. They also cleaned up the work area. Thanks!"
Craig & Carol Anderson
"I am writing this letter to commend Skylar Spahn and Dan Peters for the excellent job they did on our driveway last Saturday, August 1, 2015.
They arrived promptly and were very personable and helpful! All my questions were answered completely and thoroughly. They went above and beyond what I expected. They were interrupted by rain and had to stop. They returned and finished the job as soon as the conditions permitted that day which I was very thankful for. I will recommend them and your company to my neighbors. Thank you."
Tim and Donna Roth
"The Driveway Company removed failed caulking and recaulked the drive and patio. Their estimator and workers were friendly and courteous. They did not treat me like an idiot because I am a female and do not know a lot about concrete. The job looks very neat and I have every confidence that the driveway is structurally stable and well done. I'm very pleased with the whole experience."
Mary A. Blossom
"I had your company do some work on my steps and around my foundation. Your company truck pulled up and four gentlemen got out. They had a job to do. Each knew what to do and they went to work.
If I had any questions or concerns, Steve was there to answer them. It was a great crew. I cannot express enough how happy I am with the job that was done. My home is in one piece again. I wish I could have had the driveway done, but I understand about the black tar. Any visitors I have are surprised how good it looks. Again I thank you."
P.S. Give the crew a raise. They were great!
Mary Ann Nowak
"We heard very positive things about The Driveway Company and decided to opt for a driveway renovation. We are very pleased with the technical aspects of the renovation. The 2 guys that came were very skilled at their craft. They sawed some expansion (crack) joints in order to alleviate some of the problems with expansion and contraction at the frost line in order to facilitate the prevention of any moisture that would undermine the structure of the driveway. Then they sealed each crack and fissure, even the tiniest hairline cracks.
We were delightfully surprised at the extraordinary job that was skillfully accomplished by the Driveway techs. We could not be happier nor could we have found a better company to do our drive. Thank you The Driveway Company. We would highly recommend their professional workmanship."
Gail and Denise Baccus
"I would rate this company A+. From the start they were responsive and answered any and all questions I had. I really appreciated the fact no one tried to "up sell" me or treat me like I didn't know what I was talking about. When they came to caulk the cracks in my driveway, they were so wonderful. Had I not seen them here with my own eyes, I would never have known they had done work here; they were so quick, efficient and cleaned up everything! I have already told a friend that I think they are the company to go with. I am very glad I called them and am so thrilled with the results so far! Thank You!"
Theresa Houston
"I'm so glad I saw the TV commercial for The Driveway Co. I had deep scoring cracks in my back patio and front walk and I thought if they went through another winter of freezing and thawing and freezing, they would require more work. And it looked like more work than I could or wanted to do to look right. They did a Great job. I'm very pleased with the work they did and would refer them to anyone who needs this type of work done. Well done and neat. I'm proud to show my patio and front walk."
Phyllis Moffitt